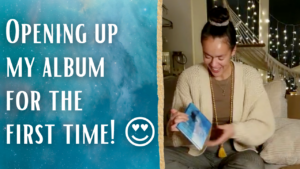 Dear family,
I just received a first sample of my new album-book!
Maybe I made up that word, album-book, but I don't know what else to call it. I used to call it booklet, referring to the few pages that usually come with an album that mention the people who worked on it and the lyrics. But I guess through a combination of having more time because of Covid, and just blindly following wherever Spirit guided me; it turned into something I really can't call a booklet anymore. It is an actual 80 paged book and I am so excited to give you a first peek into what it looks like!
I absolutely love how it turned out, but what I love most about it is that there are so many beautiful people all over the world that are part of it. There are gorgeous artworks in there from artists from Guatemala, Australia, Mexico, Morocco, Canada, United States, Germany and of course The Netherlands. Then there are the many mystical poetry from people that inspire me, dead and alive, all with the theme of 'remember you're dreaming'. There are also many empty notes pages with beautiful Course in Miracles quotes and to be honest it almost feels to beautiful to use it as a notebook, but I really hope you will and that the album-book will inspire you to write your own poetry, lyrics, or insights.