Bio – Neda Boin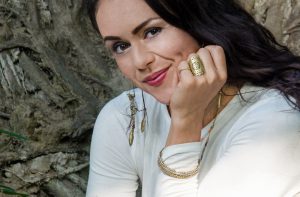 Neda, literally meaning 'Inner Voice', or 'Voice for God', is a heart touching singer songwriter, who uses her voice to give people an experience of who they truly are.
She discovered her musical talent at a young age.When she was five years old, she began, just like her mother who is a professional violin player in the Gelders Orkest, with playing the violin. However, singing was always her first love. Being too young for private singing classes she started with musicaltheater lessons when she was eight years old. This is where Neda learned to combine singing, with acting and dancing.
When she turned ten years old, she was finally old enough to start with singing lessons. Around the age of thirteen she learned to play the piano and developed a way to express herself by writing her own songs.
In 2006 she won a national music contest with one of the first songs that she wrote. From then on, Neda started doing a lot of performances in  the Netherlands.
In the summer of 2007 she toured through Kenya for orphanages, schools, slums and different tribes with a performance about HIV and AIDS. In the summer of 2008 she went to India to investigate child prostitution and give workshops and performances about women's rights. It was then that she even more so experienced the power and universal language of music.
"I saw that making music wasn't a goal for me anymore, it became a way to connect with people and touch their heart", she says. A few years later she hitchhiked from The Netherlands all the way down to South Africa.
"The songs I was writing were mostly inspired by the injustice I saw during my travels. They were songs about wanting to change the world." But when in 2010, at age 20, A Course in Miracles came into her life, slowly but surely a shift started to happen. Instead of focusing on changing the world, she started training her own mind so she could be the example of love and peace she so badly wanted to see outside herself.
End of december 2013 Neda won both the audience and the jury price of the Music Matters Awards, which made her the music ambassador of Rotterdam for one whole year.
Shortly after, Neda graduated on the music conservatory of Rotterdam for her Bachelor of Music. She successfully released her first EP 'When Lambs Become Lions' in October 2014. She also started giving songwriting workshops in juvenile prison, which she is currently still doing not only in Holland, but also across The States. She gave a big concert in San Quentin state prison in 2018.
In 2015 Neda convinced all four coaches of The Voice of Holland to turn their chairs around for her, and she made it all the way to the last eight contestants.
Thinking she would never write or sing songs that would have the word 'God' in them, after practicing A Course in Miracles for little over 3 years something strange happened; She woke up one morning feeling as if she was pulled towards the piano where the Course in Miracles workbook lesson was lying open on lesson 124: 'Let me remember I am one with God'. Words and melody's came pouring through her and before she knew it, there was a whole song with lyrics coming from that workbook lesson. The same thing happened everyday for two weeks until she had enough 'Course songs' to fill a whole album, which turned into her award winning debut album; 'The Light Has Come'. Neda is currently working on her second album called Remember You're Dreaming.