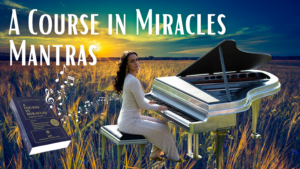 Last night was our very first Course in Miracles mantra concert and I enjoyed it SOOO much!!!
I've just uploaded the replay so hopefully the next time something is bothering you, one of these mantras will pop up in your mind and you'll start singing and forgiving😂🙏🏼❤️
Some of the reactions from last night:
"I'm so peaceful right NOW!!"
"Thank you..this is such a blessing.. My Soul is aglow."
"Thank you Neda for sharing your wonderful gift.  It has helped me to soften with a grievance that keeps haunting me with every family event.  thank you so very much.  My heart and mind are lifted."
"Thank you so much for this deep healing"
"So healing – hope we do it again."
"Your Mantra Concert was wonderful and I want to thank you so much for the invite.  I felt very inspired during and afterwards.  The whole experience was beautiful."
"Thank you Neda, Angie and I experienced a deep healing in your session today."
I hope you enjoy it just as much! Click the image below to watch on youtube. If you like to give a donation for this concert, please go here
Want more Course in Miracles music? Check out my album, The Light Has Come, which is completely inspired by different workbook lessons of A Course in Miracles.