Neda, wat in het Iraans letterlijk "innerlijke stem" betekent, schrijft en zingt muziek uit en voor het hart. Ze raakt mensen over heel de wereld met haar warme en ontroerende stem en eerlijke liedjes. Toen Neda 17 was,toerde ze door de sloppenwijken van Kenia en bezocht ze lokale stammen met een voorstelling over HIV en Aids. Het jaar daarna reisde ze naar India om kinderprostitutie te onderzoeken en haar lied over vrouwenrechten te brengen. Hierna lifte ze van Nederland helemaal naar Zuid Afrika, een tocht van 25.000 km dwars door 17 landen. Je kunt wel zeggen dat Neda, die half Nederlands half Perzisch is en woonachtig in Rotterdam, een avontuurlijke artiest en storyteller is. 
Na haar succesvolle blind audition bij "The Voice of Holland", waar alle vier de juryleden voor haar omdraaiden, realiseerde ze zich dat een krachtige boodschap uitdragen voor haar belangrijker was dan een top 40 artiest te zijn. Ze nam zich voor om voortaan alleen maar muziek uit en voor het hart te maken.
In een tijd waarin depressies alsmaar stijgen en social media vaak ons ware gezicht doet verbergen, zingt Neda op het album eerlijk over haar eigen proces van rouw, de weg kwijt zijn en de zoektocht naar het licht in haarzelf.
Zingen om de mensen in het hart te raken is niet het enige wat ze doet; Neda geeft al acht jaar songwriting workshops in een jeugdgevangenis en reist de wereld rond met muziek als middel voor heling met haar "Voice Liberation" workshops.
"Listening to Neda sing brings forth an experience of Divine Love within. She has a gift of expressing the sound of  Heaven so we can all remember the Love that exists within each one of us. Neda's music makes me feel pure joy. She has the voice of an angel."
– Corinne Zupko

"I don't even know what words to use that would accurately describe what Neda's music does for me. It's indescribable. Neda's voice lifts me up and takes me home instantly!" – Janice Walker
"Neda's music is a way to merge with the Spirit and feel the absolute glory of Divine Love. Her amazing voice enhances the lyrics from Heaven, and my soul is lifted every time I listen." – David Hoffmeister
---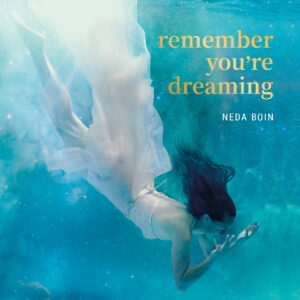 De release van Neda's volgende album, "Remember You're Dreaming", staat gepland voor 21 december 2021, de langste nacht van het jaar en daarmee ook een Iraans feestdag. Neda, zelf half Nederlands en half Iraans, heeft alle songs zelf op de piano geschreven en Joby Baker, winnaar van verscheidene Grammy Awards, heeft het geproduceerd. Drie grote artiesten uit de "new age / spirituele" hoek geven een bijdrage aan het album: Deva Premal (Grammy Award nominatie en meer dan 600.000 Spotify luisteraars), Mike Love (meer dan 100.000 Spotify luisteraars) en Alexia Chellun (meer dan 200.000 Spotify luisteraars).
Krijg een preview: 
I give it all to You:
Remember You're Dreaming feat. Mike Love:
You are the Light:
Dark night of the Soul:
Het gehele album kun je via deze privé link beluisteren:
---
Shadows and Snakes
De eerste track op het album is "Shadows and Snakes". De song kwam door als een gebed om werkelijk te zien, voorbij persoonlijke projecties en grieven; om te zien dat enge figuren eigenlijk alleen maar onschuldige schaduwen zijn, en gevaarlijke slangen enkel maar stukjes touw.
Link to video:
---
Remember You're Dreaming Feat. Mike Love 
De titelsong, "Remember You're Dreaming", heeft een fun-and-reggae invloed met een prachtig optreden van de Hawaïaanse Reggae zanger Mike Love. Neda schreef het nummer op een kassabon in een tijd dat ze zich druk aan t maken was over hoe ze haar studio opnamen kon betalen.
---
Het boek
Het album is niet alleen een muziek album. Neda heeft gewerkt aan een prachtig boek die samen met het album uitgegeven wordt. Het zijn 80 pagina's met daarin:

Schitterende kunst van 14 artiesten van over heel de wereld (Marokko, Mexico, Guatemala, Nederland, Duitsland, Canada en heel Amerika) 
Mystieke gedichten van onder andere Rumi, Hafez, Yogananda en Mooji
Notitie pagina's, versierd door mooie quotes van Een Cursus in Wonderen 
Alle songteksten
Creatieve opdrachten en meditaties
Zelf-onderzoekende vragen
Een gouden leeslint
---
Awards 
Vanaf dat ze 15  was, heeft Neda aan talloze wedstrijden meegedaan, gewonnen en prijzen binnengehaald. Het begon met de eerste plaats voor de Kunstbende. In 2013 won ze de tweede prijs in "De grote Prijs van Rotterdam" en in 2015 won ze zowel de publieks prijs als de jury prijs van de "Music Matters Awards", waardoor ze een jaar lang muziek ambassadeur van Rotterdam was en een bedrag van 17.000 euro binnen haalde, zodat ze haar eerste EP kon opnemen. In 2018 won Neda's debuutalbum "The Light Has Come" de "Rotterdam Music Award" voor beste album van het jaar. Neda is afgestudeerd aan het Rotterdams conservatorium en aan de Stembevrijding academie van Jan Kortie in Amsterdam.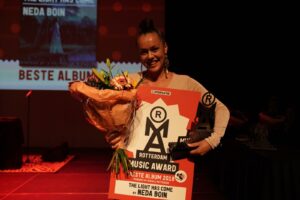 ---
Voice Liberation
Neda geeft over de hele wereld Stembevrijding workshops en retraites. Stembevrijding is een methode waarbij de stem wordt gebruikt om onbewuste blokkades te doorbreken en los te laten. Het is een diepgaande en therapeutische manier van het inzetten van de stem. 
"Having a voice liberation session with Neda is like taking a walk to the very centre of your being, and then walking safely back out again – wiser, clearer, kinder. The power of my voice, guided by Neda's musical talent and bright intuition, has released and revealed patterns and beliefs that I was ready to let go of, in a way that cognition alone could never do. It's a gift to receive these sessions in which Neda generously shares her own gift." – Disa
"I've been studying A Course in Miracles for so long, but something happened during your sessions that I never experienced before. It was like something went kwantum and there was immediate healing. I don't understand what happened. I have been studying so long, but now I feel it, my heart has opened, I'm in the real experience of it! "- Ewa
"I was in therapy for 30 years. This program, getting into the vibration of it all, really has healed me more than any therapy I ever did." – Pam
---
Tour history
Neda Boin stond op talloze podia over de hele wereld. Om er een paar te noemen:
The Voice of Holland, Schouwburg Rotterdam, Paradiso, Zuidplein Theater, De Doelen, Nieuwe Luxor Theater, Vredenburg, Tivoli, Vondelpark, Mundial Festival, Odeon, de Meertvaart, Pakhuis Wilhelmina, WMDC, Maasilo, Dunya Festival, Club Dauphine, Lantaren Venster, Tolhuistuin, Kurhaus Hotel, Radio 538, FunX, npo1, VPRO, and many more.
Pregones Theater The Bronx New York, San Quentin State Prison San Francisco, Omni Parker House Boston, Strawberry Fields Festival Utah, Ojai valley Inn, Miracle festival Germany, The Massaï tribe Kenya, The National Theater Nairobi, Tears Theatre Nakuru, Serekei Hills Ngong, 
---
Discography
2014: EP, When Lambs Become Lions
2018: Debut album, The Light Has Come
2021: Remember You're Dreaming
Contact
info@nedaboin.com
0031619193140
www.nedaboin.com 
www.instagram.com/neda_boin
www.youtube.com/neda_boin