Neda, literally meaning 'Inner Voice', writes and sings music from and for the heart. Her touching, warm and soulful songs bring many people to tears.
When Neda was 17 years old, she toured through the slums and tribes of Kenya, with a show about HIV and Aids. The year after she went to India to research child prostitution and perform her song about women's rights. After that she hitchhiked from the Netherlands all the way to South Africa, a 25.000km journey across 17 countries. It is safe to say that Neda, who is half Dutch half Persian and born and raised in The Netherlands, is an adventurous artist and storyteller. After her successful '4 chair turn blind audition' on the popular TV show "The Voice", she realised that a powerful message was more important to her than being a top 40 artist. She vowed to only make music from and for the heart. Neda uses music to remind the listeners of who they truly are and let them know they are not going alone through the 'dark night of the soul'.
She doesn't just sing to reach peoples hearts; Neda has also been giving songwriting workshops in juvenile prison for over 8 years and has travelled around the globe using music as a tool for healing with her "Voice Liberation" workshops.
"Listening to Neda sing brings forth an experience of Divine Love within. She has a gift of expressing the sound of  Heaven so we can all remember the Love that exists within each one of us. Neda's music makes me feel pure joy. She has the voice of an angel."
– Corinne Zupko

"I don't even know what words to use that would accurately describe what Neda's music does for me. It's indescribable. Neda's voice lifts me up and takes me home instantly!" – Janice Walker
"Neda's music is a way to merge with the Spirit and feel the absolute glory of Divine Love. Her amazing voice enhances the lyrics from Heaven, and my soul is lifted every time I listen." – David Hoffmeister
---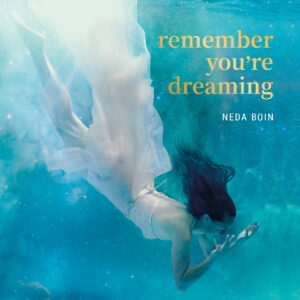 Neda's upcoming album, Remember You're Dreaming, is scheduled to be released December 21st 2021. Neda has written all of the songs by herself with the piano, and it is produced by multi grammy award winning producer Joby Baker. It features 3 major artists in the 'new age/spiritual' niche; Deva Premal (grammy award nominated and more than 600.000 Spotify listeners), Mike Love (more than 100.000 Spotify listeners) and Alexia Chellun (more than 200.000 Spotify listeners).
First single
The first single of the album is Shadows and Snakes. The song came as a prayer to see truly, beyond personal projections and grievances. To see that scary figures were really just harmless shadows, and that dangerous snakes were really just pieces of rope.
The song will be released on the 12th of December.
---
Remember You're Dreaming Feat. Mike Love 
The title song, Remember You're Dreaming is a fun and reggae influenced song with a beautiful feature by Hawaiian Reggae singer Mike Love. Neda wrote the song on a receipt, at a time where she was worrying a lot about money. The words "Take a deep breath, sit down my child" came to her and not long after, the song was born. 
A preview of a few other songs on the album: 
I give it all to You:
Remember You're Dreaming feat. Mike Love:
You are the Light:
Dark night of the Soul:
To listen to the whole album you can go here:
---
The book
Remember You're Dreaming comes with an inspiring 80 paged book that contains:
Gorgeous artwork from 14 different artists from all around the world
Mystical poetry from Rumi, Hafez, Yogananda, Mooji and more
Empty notes pages decorated with beautiful quotes from A Course in Miracles
All lyrics to my songs
Creative exercises and meditations
Reflecting questions
A golden bookmark
---
Neda's 4 chair turn audition on The Voice in 2015. After The Voice she realised that she needed to make music from and for the heart, even if that would mean that she wouldn't be a famous top 40 artist.
---
Awards 
Neda boin has won countless of contests and awards, the biggest ones starting from when she was 15 years old, The 'Kunstbende' 1st place. In 2013 she earned second place in 'De Grote Prijs van Rotterdam' and In 2015 she won the Music Matters Awards, that made her music ambassador of Rotterdam for a year and gave her a cash price to record her first EP of $20.000,- 
In 2018 Neda won the Rotterdam music award for best album of the year for her debut album, The Light Has Come.
Neda has graduated from the Amsterdam Voice Liberation academy and has her bachelors of music from the Rotterdam Music conservatory.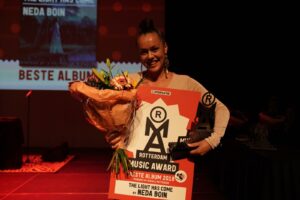 ---
Voice Liberation
Neda has been giving Voice Liberation workshops and retreats all over the world. Voice Liberation is a method where we use the voice to become aware of and release unconscious blocks. It is a very deep and therapeutic way of using the voice. Many people have reported deep healing experiences from participating. A favourite for many bookers is to invite Neda to give a healing concert one night, and give a Voice Liberation workshop the day after.
"Having a voice liberation session with Neda is like taking a walk to the very centre of your being, and then walking safely back out again – wiser, clearer, kinder. The power of my voice, guided by Neda's musical talent and bright intuition, has released and revealed patterns and beliefs that I was ready to let go of, in a way that cognition alone could never do. It's a gift to receive these sessions in which Neda generously shares her own gift." – Disa
"I've been studying A Course in Miracles for so long, but something happened during your sessions that I never experienced before. It was like something went kwantum and there was immediate healing. I don't understand what happened. I have been studying so long, but now I feel it, my heart has opened, I'm in the real experience of it! "- Ewa
"I was in therapy for 30 years. This program, getting into the vibration of it all, really has healed me more than any therapy I ever did." – Pam
---
Tour history
Neda Boin has performed on countless stages all over the world. To name a few: 
The Voice of Holland, Schouwburg Rotterdam, Paradiso, Zuidplein Theater, De Doelen, Nieuwe Luxor Theater, Vredenburg, Tivoli, Vondelpark, Mundial Festival, Odeon, de Meertvaart, Pakhuis Wilhelmina, WMDC, Maasilo, Dunya Festival, Club Dauphine, Lantaren Venster, Tolhuistuin, Kurhaus Hotel, Radio 538, FunX, npo1, VPRO, and many more.
Pregones Theater The Bronx New York, San Quentin State Prison San Francisco, Omni Parker House Boston, Strawberry Fields Festival Utah, Ojai valley Inn, Miracle festival Germany, The Massaï tribe Kenya, The National Theater Nairobi, Tears Theatre Nakuru, Serekei Hills Ngong, 
---
Discography
2014: EP, When Lambs Become Lions
2018: Debut album, The Light Has Come
2021: Remember You're Dreaming
Contact
info@nedaboin.com
0031619193140
www.nedaboin.com 
www.instagram.com/neda_boin
www.youtube.com/neda_boin