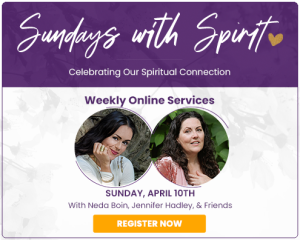 Dear family,
I am the guest (speaker/musician) at Sundays with Spirit hosted by Jennifer Hadley and the Power of Love Ministry on April 10 at 3PM Eastern.
All are welcome for inspiration, healing, and music!
Register Here:  https://www.livingacourseinmiracles.com/sunday
There's no charge to join, but you have to register if you'd like to be a part of the entire service and if you'd like to participate as a member of the audience.
If you'd just like to watch you can go here and watch on Facebook:
https://www.facebook.com/ACourseinMiraclesPodcastJenniferHadley