Voice Liberation Session Online – Live from Atlanta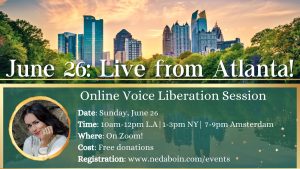 Dear friends,
I am happy to share another online Voice Liberation session with you.
The session will be on Sunday June 26, from 1-3pm ET.
The session will be translated into Spanish.
To register, click here: https://us02web.zoom.us/meeting/register/tZAtc-qgqjMqHtTR8h0N6HhdlT2TgG20z2vX
Hope to see you then!
Much love,
Neda
Date: Sunday, June 26
Time: 10am-12pm LA | 1-3pm NY | 7-9pm Amsterdam
Where: On Zoom!
Cost: Free donations